Private Lessons can be offered to both new and old fencers. Those with zero experience and to those with competitive experience. Rory can offer lessons at Pulse Fencing Club or he can come to you and have the lesson at your home. These lessons are the best way to learn new moves and tactics that can help you on the fencing piste to outwit your opponent. Private lessons can also be one of the best ways to start fencing as you learn all the basics and don't develop any bad habits early on. We highly recommend taking private lessons at least once a month to keep advancing as a fencer.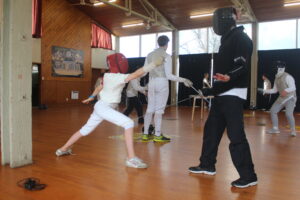 Home Lessons
Lessons can also be offered at your home if you have enough area suitable for it. These lessons cost $30 for half an hour with additional charge out of $20 if you are in central Auckland or $30 if you live out of central Auckland. Longer lessons can be arranged at your request.
Club Lessons
Lesson can be offered at Pulse Fencing Club at a rate of $30 for a half an hour lesson. Longer or shorter lessons can be arranged at your request.